Welcome to Hillsborough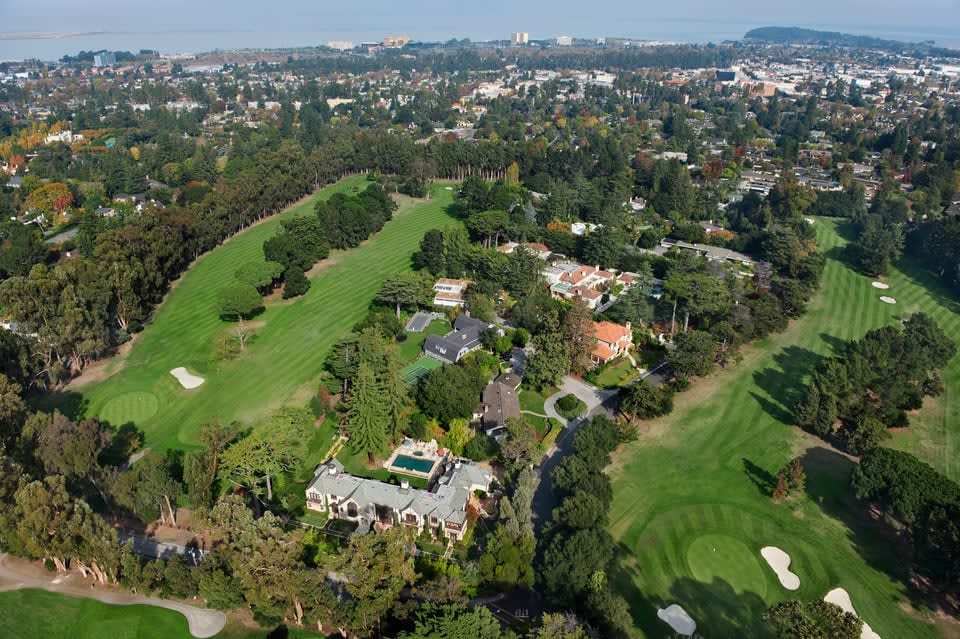 Cruising along Hillsborough's bucolic roads, you can still see glimpses of the Gatsby era amidst historic mansions of the Crockers, Spreckels, and Pullmans. But today's Hillsborough brings a new dynamic perfectly aligned with the Bay Area's booming industries of private equity, technology, venture capital, and biotech. Many captains of these fields choose to call Hillsborough home for its unrivaled lifestyle. Standout assets include world-class public and private schools, proximity to downtown Burlingame and San Mateo, quick connections to International airports, San Francisco, and Silicon Valley. But it's the charismatic quality of the housing inventory that will capture your heart: genteel estates of the 1920s and 1930s are mixed in with newer developments and Wow-Factor cutting-edge constructions. An understated country club ambiance prevails with privacy hedges, gates, and no planned sidewalks. Epic trees shroud the worldly architecture, pools, tennis courts, and vast gardens. From bygone glamour to tucked-away suburban privacy, the streetscape of Hillsborough is like no other.

For 2019, with a strong seller's market intact, a launch of San Francisco-based IPOs should infuse new wealth to Hillsborough via companies such as Uber, Lyft, Pinterest, Palantir, Airbnb, and Slack. The average price per sq. ft. in Hillsborough for 2018 was $1,176, but it is not uncommon for premium properties to achieve the range of $1,400 - $1,600+ per foot. Every year I publish an exclusive hand-curated report: "Hillsborough Off-Market Real Estate Review." For 2018, the market evidenced a dramatic increase in Hillsborough's $10M+ bracket, both on the MLS and off the MLS. Throughout Hillsborough, the real estate desirability has spurred new construction and re-development. Many modern designs and newer luxury floorplans continue to proliferate as older properties are torn down and re-purposed.

Hillsborough is partitioned into 10 distinct neighborhoods. I have articulated these areas by authoring the site HillsboroughBlog.com. The Town's regions are generally discussed in terms of "Lower Hillsborough" or "Mid" or "Upper Hillsborough" based on proximity to El Camino in the flats (Lower) or proximity to Highway 280 further up the hill (Upper). As viewed on my HillsboroughBlog.com map, Lower Hillsborough neighborhoods include Lower North and Lower South, while "Mid Hillsborough" areas include Mid North (upper Barroilhet, Homeplace, San Raymundo, El Arroyo, etc) and Mid South (around Vista Park such as Culebra, Vista, Ridgeway). Neighborhoods closer to 280 in Upper Hillsborough include Carolands, Skyfarm, and Highlands/Lakeview. As each neighborhood occupies a different era of development, the housing stock will vary. Lower Hillsborough has the most valuable heritage (the 1900s-1940s) properties often on larger flat lots, while a community such as Skyfarm derives from the 1970s-1980s with executive homes of that period. With the latest real estate boom beginning around 2014, economic confidence has ushered in a new wave of cutting-edge new constructions as older properties are re-purposed. Trending designs of this new era include a modern, transitional, modern farmhouse, and indoor/outdoor open floorplan layouts.

Some residents prefer Lower Hillsborough's walkability to Burlingame Avenue or downtown San Mateo amidst flat streets, while others seek a quick connection to Highway 280 or jaw-dropping Bay views found in the upper neighborhoods. Lower Hillsborough is generally regarded as the most expensive, although eight-figure estates are also found in neighborhoods of Mid North, Mid South, Carolands, and Skyfarm. Bordering San Mateo at the southwest corner of Hillsborough, you will find the enclaves of Tobin Clark and Parrott Drive area. These outlying districts are positioned beyond the "heart of Hillsborough," but do offer a strong number of larger homes from the 1980s-2000s, and indisputably some of the best views in town. Whichever neighborhood you choose, owning a home in Hillsborough promises the San Francisco Bay Area's premier luxury lifestyle at a location that is truly unrivaled. In a word, timeless.


Hillsborough Historic Notes:
Hillsborough, its very name exudes timeless prestige. With origins tracing to the Gold Rush, Comstock Lode, and "Big Four" railroad barons, this legendary hamlet continues to represent the ultimate in Peninsula residential luxury within 30 minutes of both San Francisco and Silicon Valley. Dating to the 1890s and incorporated in 1910, the Town of Hillsborough was originally inspired by Francis G. Newlands after his East Coast country club community of Chevy Chase, Maryland. Today, Hillsborough still maintains its meandering country roads revolving around the Burlingame Country Club and pristine nature. Lush topography cradles many unique architectural properties. From dramatic canyons and forested hillsides to hidden lanes and sweeping Bay vistas, Hillsborough's "treescape" natural environment defines its instantly recognizable thumbprint.